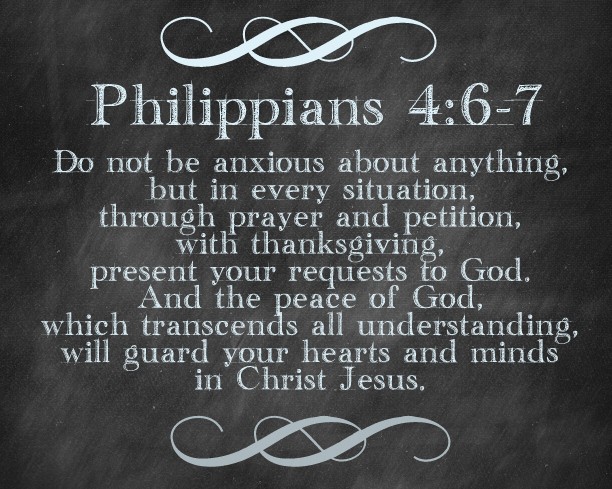 I learned some great tools from some ladies in my groups this week, and I want to share them with you.
One woman shared how she handles all the situations in her life. They fall into 2 categories:
Is this a prayer?
Is this a praise?
Whatever is happening, she asks her self "Is this a problem?   Then this is a matter for prayer."  Then she prays about it.  If the situation isn't a problem, then it can be qualified as a praise, so she praises God for it.  In any case, she remains in constant communication with God no matter what happens in her life.  It reminds me of Phil 4:4-7.
4 Rejoice in the Lord always. I will say it again: Rejoice! 5 Let your gentleness be evident to all. The Lord is near. 6 Do not be anxious about anything, but in every situation, by prayer and petition, with thanksgiving, present your requests to God. 7 And the peace of God,which transcends all understanding, will guard your hearts and your minds in Christ Jesus.
Notice that if you will rejoice about your praises and pray about anything that brings anxiety, the result will be the peace of God. But what about when you are having trouble finding something to praise Him about or give thanksgiving for?  Verses 8 and 9 answer that question.
8 Finally, brothers and sisters, whatever is true, whatever is noble, whatever is right, whatever is pure, whatever is lovely, whatever is admirable—if anything is excellent or praiseworthy—think about such things. 9 Whatever you have learned or received or heard from me, or seen in me—put it into practice. And the God of peace will be with you.
You have to make a concerted effort to look for what is positive, which can be a real struggle if you have depression.  Of course, you can always praise God for who He is, because He never changes, regardless of the situation.  But sometimes you have to search for good things in your life, because the enemy will gladly cloud your thinking with everything you don't have and tell you that you never will have them, so just give up.  He talks like Job's wife by saying just curse God and die already.
That's why making a gratitude list when you are depressed may be the one thing that keeps you going. So make the effort to look for the good, even the tiniest good, and thank Him for it.   God says it will bring you peace, but how?
Because seeing what is good builds your faith that God is good, and it helps you return to God in trust. Peace is a fruit of the spirit, and it cannot be obtained apart from the Holy Spirit of God within you.  But when you think on His goodness and draw near to Him, He draws near to you.  When you make your home in Him, He makes His home in you.
If you want the fruit of peace, you need to do everything in your power to stay close to Him.  Thinking about any and all of His blessings is how you keep clinging to Him.  Throughout your day, make everything either a prayer or a praise and start living more in the peace of God.
Lastly, another woman shared how she used to tell her children that
if something is hard, it means that they are learning something. 
If it is easy, they already know it.
How profound! If you are going through something hard right now, then it's because God is trying to teach you something you don't already know. Take the opportunity to learn the lesson and make the most of your situation. God will not waste a hurt, nor any situation – He will use it for your good by making you more like Christ through it. Rom 8:28-29 says:
28 And we know that in all things God works for the good of those who love him, who[a] have been called according to his purpose. 29 For those God foreknew he also predestined to be conformed to the image of his Son, that he might be the firstborn among many brothers and sisters.
Utilize these two tools to help you keep your faith and stay in communication with God, no matter what happens.
Turn your anxious situations out of your control into opportunities for accessing God's power to change the situation through prayer.  Then leave it in His capable hands.
Give God all the praise for every good thing you can find at all other times.
And if you are going through something hard, ask Him what lesson He wants you to learn and find the good in that as well.  Watch as He transforms you more into the image of Christ through it.
Your sister in Christ,
Penny